Roser WD Series with Dyson Airblade ™ Wash + Dry
Wash and dry your hands anywhere.
· The touchless hygienic solution.
· Dyson Airblade™ Wash+Dry technology.
· 3 models available.
· Drying time in only 14 seconds.
· Hygienic performance with HEPA filter.
· Advertising support.
· 76% cheaper than other hand dryers available in the market.
· Exclusive 5 years warranty.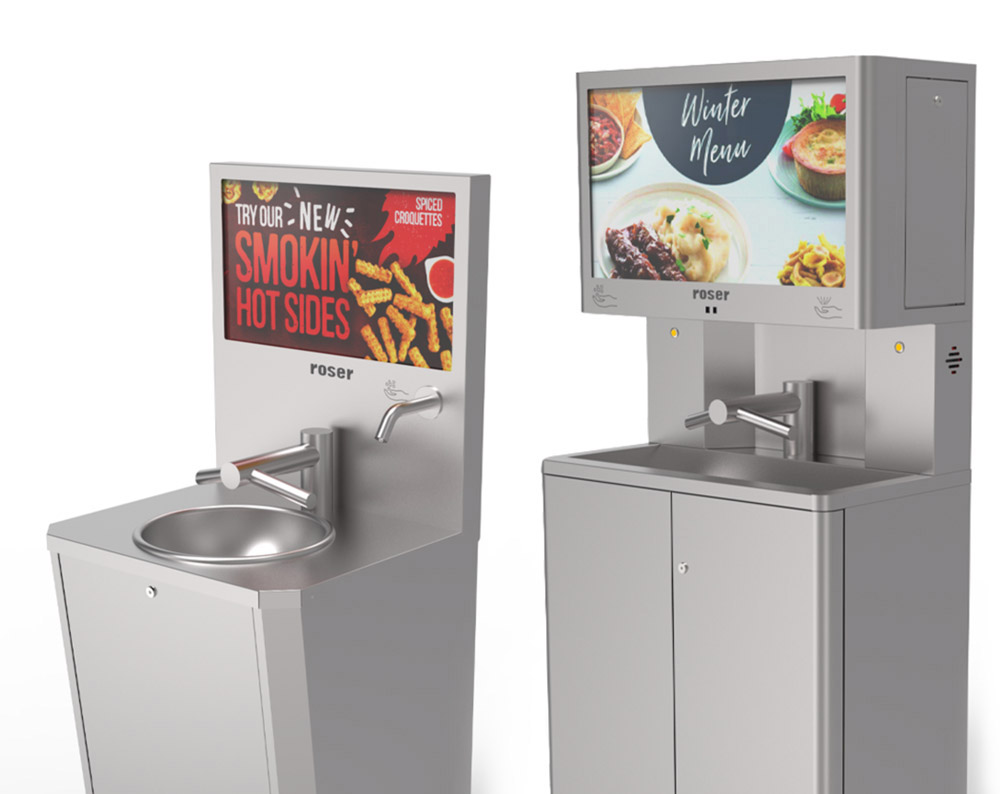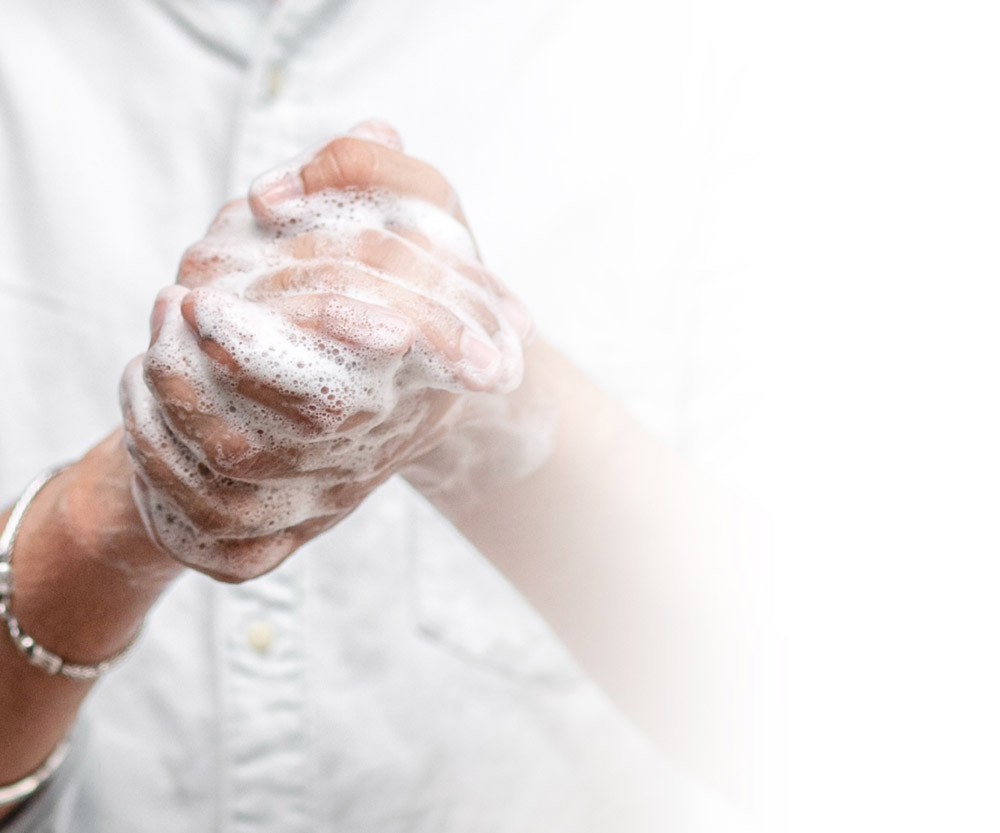 According to the World Health Organization (WHO), washing hands with soap and water reduces 50% of childhood diarrhea and 25% of respiratory infections. While 80% of diseases are transmitted by touching surfaces, according to the Centers for Disease Control and Prevention (CDC).
Before cooking




After going to the bathroom


Before eating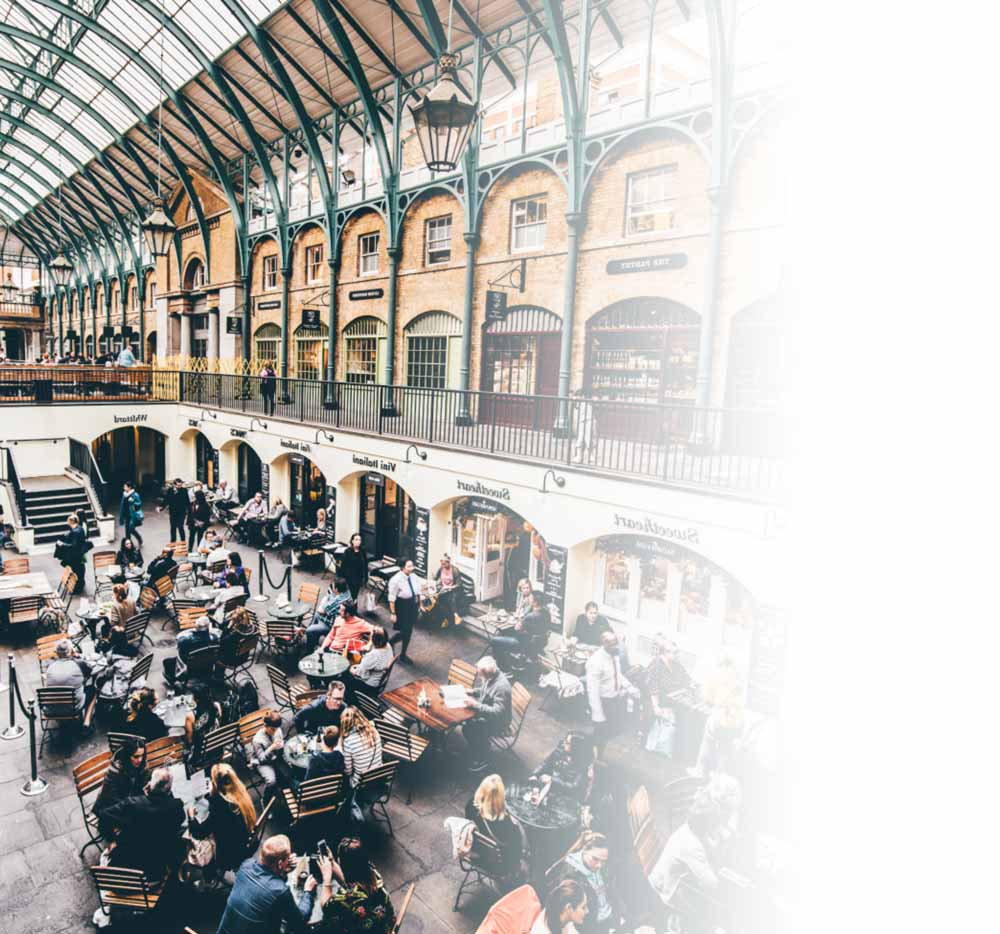 Why don't we wash our hands before eating in public places?
Lack of proximity
The problem lies in the lack of proximity
of the toilets in public areas.
Too many people
Too much volume of people at peak times
and in restaurant areas.
Hygiene not guaranteed
The hygiene of most toilets is not guaranteed:
sensorless taps, push-button hand dryers, sensorless access doors, lack of paper…
Roser Group presents the solution to end these problems with Dyson Airblade™ Wash+Dry
Roser Group solves the problem of hand disinfection in high-traffic public spaces by introducing a self-contained sink. We offer three models to adapt them in different situations, with designs ranging from a more functional application to models that allow advertising to be displayed through their integrated screens.
Each and every one of our models includes Dyson Airblade™ Wash+Dry.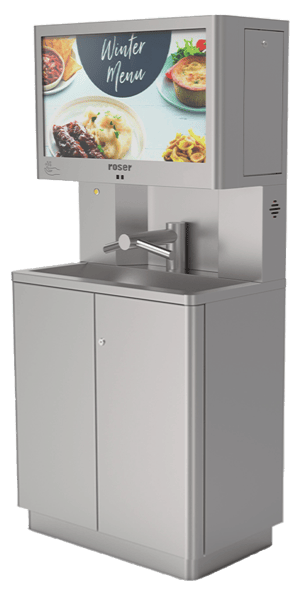 ROSER WD POD
High quality stainless steel sink. Hand wash and dry with Dyson Airblade™ Wash+Dry with non-contact air and water activation. High capacity HEPA filter and drying in 14 seconds. Automatic soap dispenser with 5 liter tank and non-contact activation. Advertising support with LED screen to display image and audio.
Model produced according to hygiene and safety guidelines.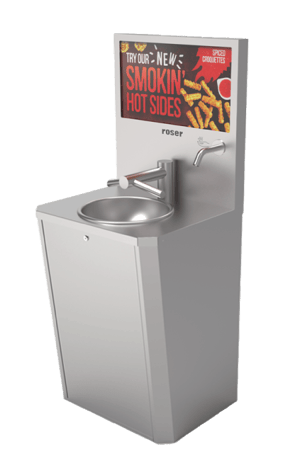 ROSER WD STAR
Lavatory model with high quality stainless steel unit. Hand washing and drying with Dyson Airblade™ Wash+Dry with non-contact air and water activation, HEPA filter and drying in 14 seconds. Automatic soap dish with refillable 5 liter tank. Integrated LED screen ready to display advertising content with image and video.

Model produced according to hygiene and safety guidelines.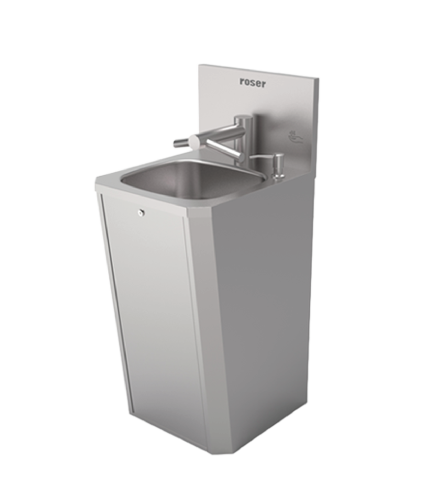 ROSER WD ONE
Handbasin with practical and functional design, high quality stainless steel unit. Hand washing and drying with Dyson Airblade™ Wash+Dry with non-contact air and water activation, HEPA filter and drying in 14 seconds. Manual stainless steel soap dish with refillable 5-liter tank.

Model produced according to hygiene and safety guidelines.

Using the Roser Group Self-Contained Lavatory with Dyson Airblade™ Wash+Dry is simple. It is designed to be comfortable, easy and intuitive.

Its operation through smart sensors, emits lights that guide users to locate their hands in each phase of the sanitation process. Therefore, it is optimized in resources and time of use
Hands disinfected in 3 steps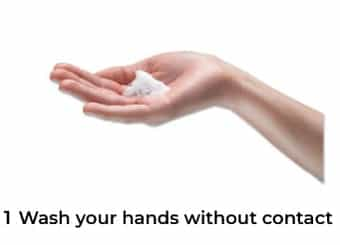 Use smart sensors that provide you with an adequate amount of hand washing soap.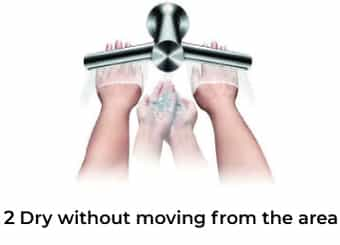 Computer circuits coordinate information and respond properly with water or air immediately. Dry your hands in 14 seconds without moving to a drying area.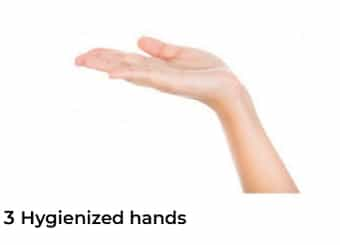 Using the self-contained sink with Dyson Airblade™ Wash+Dry hands are sanitized and disinfected in the same area.
The Dyson Airblade™ Wash+Dry hand dryer is powered by the Dyson V4 digital motor, one of the smallest 100W integrated motors in the world. Its small size and power density are what have made our latest hand drying technology possible.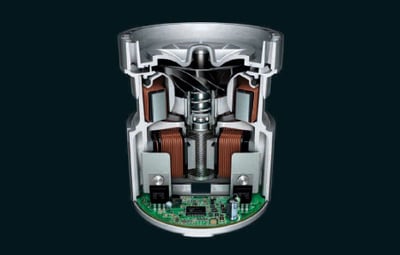 Dyson V4 digital engine
It spins at 81,000 rpm revolutions per minute and generates enough power to absorb up to 30 liters of air per second through a HEPA filter.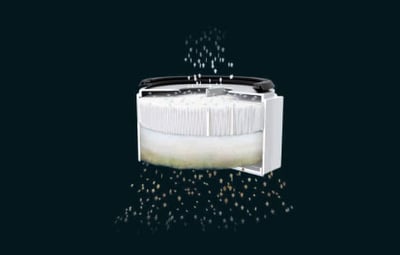 HEPA filter
The standard HEPA filter captures 99.95% of the bacteria size particles present in the bathroom air.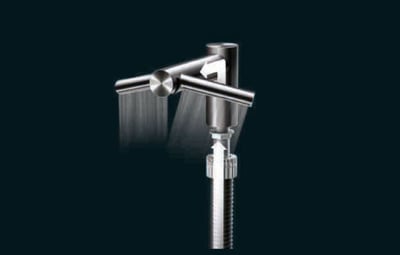 Airblade™ technology
The result is sheets of clean air filtered at 549 km / h that remove water from your hands and dry them quickly and hygienically.
The ROSER WD STAR and ROSER WD POD range of models, in addition to offering a touchless hand washing solution, they incorporate an LED screen with integrated advertising support.

These allow adding image and video through Wi-Fi connection or USB memory.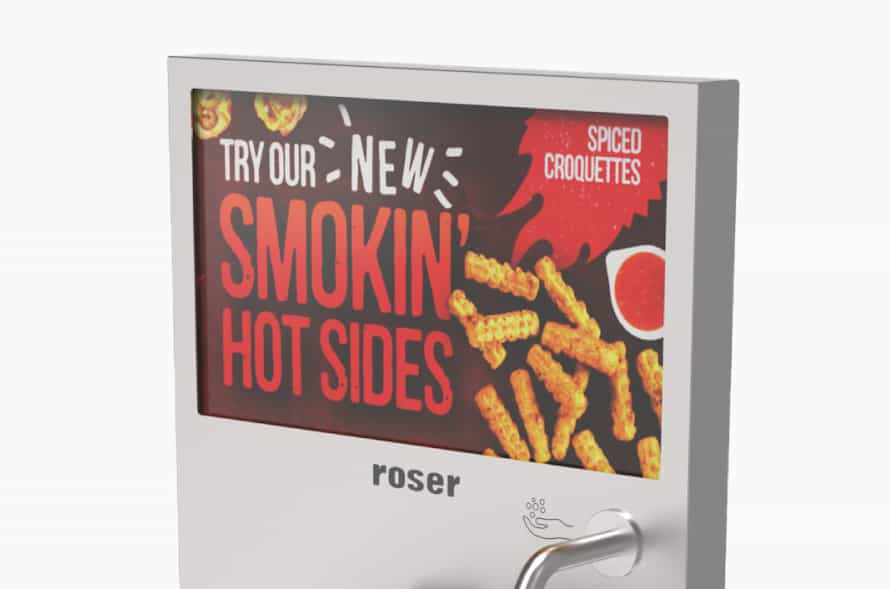 27 '' LED screen
The ROSER WD STAR model incorporates a 27-inch LED screen embedded in its stainless steel frame. Through this screen, advertising and informational content can be displayed while hand washing is being carried out. These screens support PDF, JPG, MP4, etc.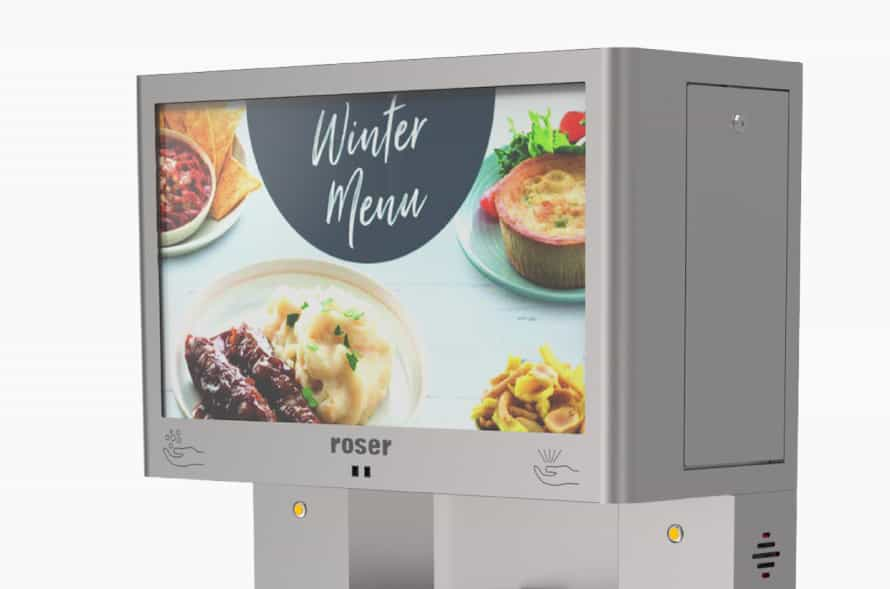 32 '' LED display and built-in speaker
The ROSER WD POD model is positioned as the most complete solution. This premium version offers a 32-inch LED screen and incorporates an integrated speaker.
This model allows audio and image output unlike the ROSER WD STAR model.
Contact us and discover the Roser Group touchless hygienic solution with Dyson Airblade™ Wash+Dry
Our models, in addition to presenting a fully autonomous touchless washbasin, are designed to offer great versatility. They can be installed in a multitude with great affluence to solve hand hygiene problems.
From the health, education and hospitality sector to shopping centers, offices, airports, large industries or any other business facing the public that has a rest area.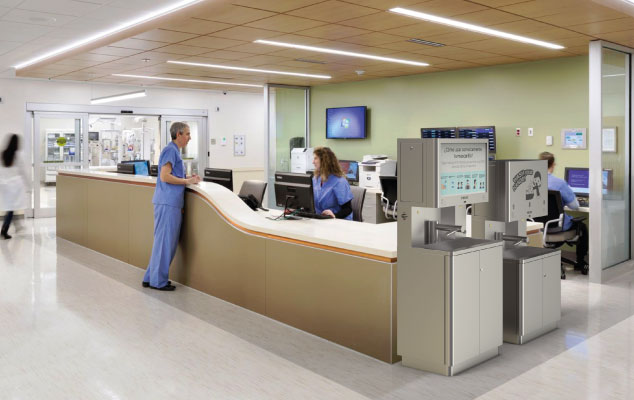 Health
Roser Group's self-contained sinks with Dyson Airblade™ Wash+Dry integrate seamlessly into spaces such as clinics, hospitals, and medical centers where you can properly disinfect your hands and maintain a bacteria-free space.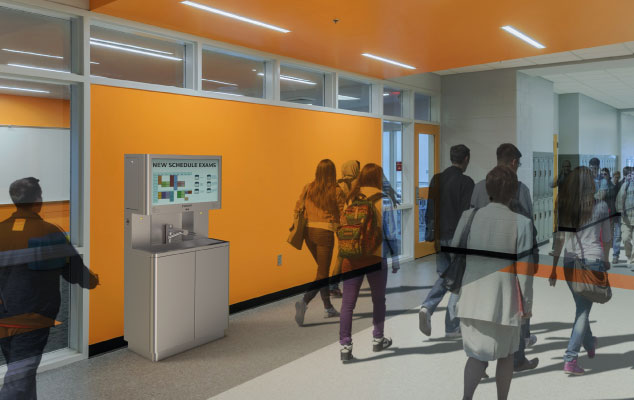 Education
In study centers, schools, institutes and universities, the autonomous sink can also offer information of interest through its screens.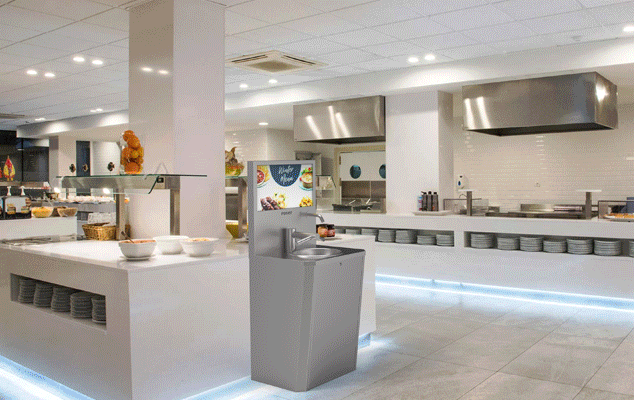 Restoration
Thanks to the easy installation of the autonomous washbasin, the hand washing service is offered in restaurant spaces where self service, fast food services and food court spaces have a place.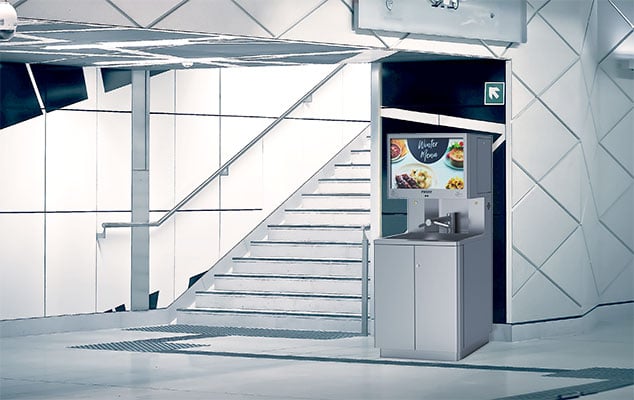 Transport
In spaces such as airports, train, bus or metro stations, our product is presented as the solution in areas where there is a large influx and movement of people.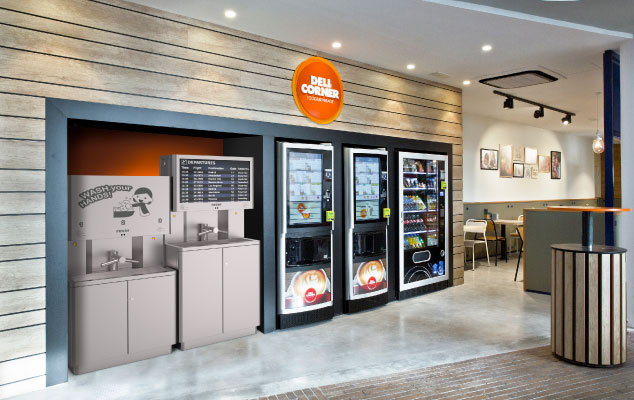 Vending
In vending stands, being able to wash your hands before and after using their machines allows for greater hygiene.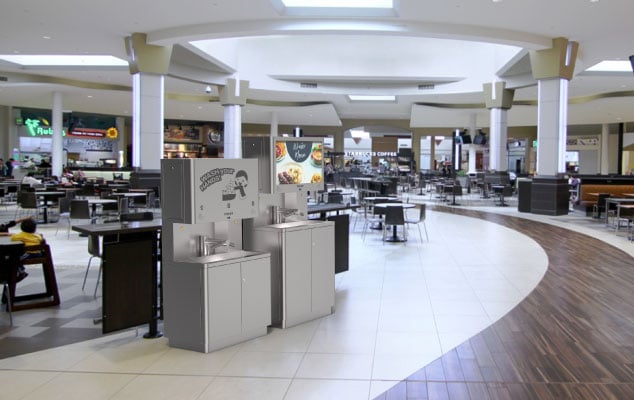 Public places
The solution offered by Roser Group improves hygiene in crowded places such as shopping centers, attractions, museums or leisure centers, thus avoiding the spread of bacteria.

Offers a hygienic solution adapted to a large number of sectors
At Saint Louis University, Madrid Campus, which began in 1967 with a group of American students from the main campus in St. Louis (USA), it has been questioned whether the methods of hand hygiene, which they had on campus, they were appropriate and they set themselves the goal of finding the optimal solution to facilitate this gesture for their students.

To achieve this objective, they decided to install the ROSER WD POD model in their facilities, putting an end to the problem of hand washing, achieving a simple and user-friendly solution. Being located in the cafeteria thanks to its easy installation, taking care of personal hygiene has become more accessible for its students without having to purposely look for the toilets on campus.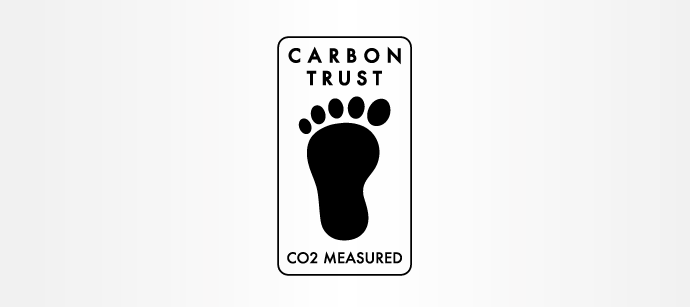 The only certified hand dryer by Carbon Trust
Everything we do or use has a carbon footprint.
The Carbon Trust has measured and evaluated the carbon footprint of each of the components in the Dyson Airblade™ Wash+Dry range of hand dryers.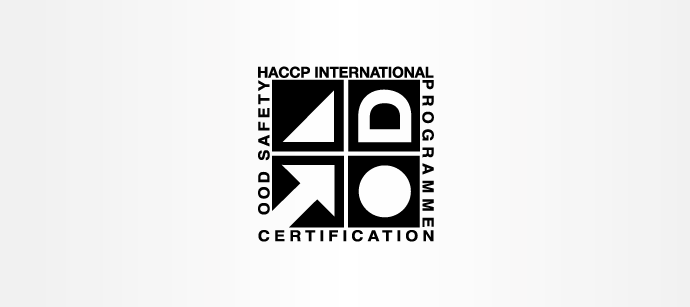 Certified by HACCP International, safe for use in the food industry
The Dyson Airblade™ Hand Dryer and the Dyson Airblade™ dB Hand Dryer are the only certified hand dryers worldwide for use in the food and beverage industry.